American Airlines app

Travel made easy
Download our app for free and use it to manage your travel on the go. From booking and seat assignments to your boarding pass and airport maps, we're with you every step of the way.
Before you go

Check in for your trip
Check in starting 24 hours before your flight departs to get your boarding pass. Then once you're at the airport, you'll just check your bags or go straight to security.

Add your bags
Save time when you add your checked bags to your trip and pay any bag fees. Then just scan your boarding pass at the kiosk for bag tags.

Check travel requirements
Check if your destination has travel restrictions by tapping the 'Ready to Fly' banner on your app home screen.

Chat with us
Connect with us in a live chat session. When we're unavailable, you can also get 24 / 7 virtual help for quick answers to your travel questions.
During your trip

Get your boarding pass
Use your mobile boarding pass to clear security and board your flight. If gate information changes, your boarding pass will reflect that.

Rebook flights
If your flight is delayed or canceled, you can move to another one with instant rebooking – no waiting in line at the airport.

Enjoy free entertainment
One way to stream our library of free inflight entertainment is through the app.

Stay connected
Stay signed in to get information specific to your trip, right when you need it.
More you can do
Manage your AAdvantage® account
Track your AAdvantage® miles and progress toward loyalty status, manage your profile and get all the help you need in one place.
Make a same-day change
If you'd like to change your plans, choose a different flight on the same day (fees may apply).
Find food on the go
Order food from airport restaurants to pick up before you board your flight.
Available on the Apple Watch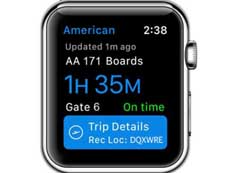 The right travel information when you need it – with just a glance at your wrist.
View upcoming trips
Check driving time to the airport
Receive flight notifications
See where you are and when you'll land
Get connecting gates and baggage claim info